General Information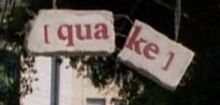 Quake is a popular restaurant, located in San Francisco, California.
In 1998, one of the Charmed Ones, Piper Halliwell, was hired as head chef and manage of Quake. Often, she and her sisters would find themselves meeting there to discuss whatever magical adventure they were currently having. At times, Piper worried that her magical life was interfering with her ability to manage Quake.
In early 1999, Piper quit her job at Quake and, soon after, opened her own nightclub, which she and her sisters called P3.
Rex and Hannah at Quake
Following their return to San Francisco, and their reconciliation with the Halliwell sisters, in 2008, Rex Buckland and Hannah Webster often dined at Quake.
A few times, they were joined for meals at Quake by Paige Matthews. This usually happened when they were engaged in a case involving magic, they would meet at Quake to discuss the situation.
Rex and Hannah continued to frequent Quake until their departure for Arkham, Massachusetts, in early 2015.
References
Rex and Hannah Chronicles Story No. 7: The Troubled Spirit
Rex and Hannah Chronicles Story No. 17: Dreams Of The Hunter