Personal Data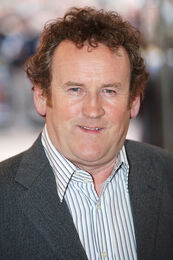 BIRTH NAME:
Richard Pickman
AGE: Late 50's.
HAIR: Brown.
EYES: Blue.
OCCUPATION: Dean of Miskatonic University, member of the Inner Circle.
DESIGNATION: Human.
KNOWN POWERS: None.
KNOWN RELATIVES: None.
General Information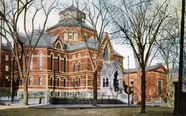 Richard Pickman became Dean of Miskatonic University, in Arkham, Massachusetts, upon the retirement of William Travers in 2011.
Richard Pickman is also a member of the Inner Circle, which is led by Randolph Carter.
However, just how long Pickman has been a member of the Inner Circle remains unknown at this time.
Pickman hires Rex Buckland
It was Randolph that encouraged Pickman to hire Rex Buckland as Head of the Ancient Languages Department at Miskatonic University in early 2015. This was part of the incentive to get Rex and Hannah Webster to move to Arkham.
It was Pickman that showed Rex and Hannah the house that they would end up moving into.
The Inner Circle
Following that, Pickman, along with the rest of the Inner Circle monitored Rex and Hannah. They were waiting until they felt it was the right time to inform them of the true reason they wanted the two former Warlocks in Arkham, they wanted them to join the Inner Circle.
However, the Inner Circle underestimated the tenacity of Rex and Hannah. They had uncovered the existence of the Inner Circle faster than expected, forcing the group reveal the truth about Inner Circle to Rex and Hannah and invite them to join it. Despite some complications, included an attempt on Hannah's life by a member that did not a woman admitted to the group (no women had been permitted to join before), Rex and Hannah soon accepted the invitation and joined the Inner Circle.
At the same time, Rex began his new job at Miskatonic University.
Rex and Hannah's Halloween wedding
Pickman was one of the guests to attend Rex and Hannah's Halloween wedding. Just prior to that, Pickman had met Kalu and learned that she was from the future. He promised to keep that information secret.
Mission to Exham Priory
In May of 2018, Pickman asked Rex and Hannah to travel to the ruins of Exham Priory, in England, to investigate the mysterious disappearance of Professor Nathan Howell and David Abbott, the graduate student who had been assisting him.
Although Pickman's involvement with this incident ended there, Rex and Hannah no doubt informed him of what had occurred during that mission involving the De la Pour family.
References
Rex and Hannah Chronicles Story No. 34: New Frontiers
Rex and Hannah Chronicles Story No. 38: Innsmouth Revisited
Rex and Hannah Chronicles Story No. 39: The Inner Circle
Rex and Hannah Chronicles Story No. 40: The Secret Of The House
Rex and Hannah Chronicles Story No. 49: Into The Catacombs