General Information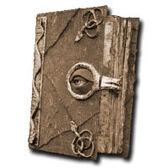 Unaussprechlichen Kulten
is one of the many
old and obscure books
that belongs to
Rex Buckland
.
Unaussprechlichen Kulten was written by by Johann von Juntz and first published in Dusseldorf in 1839.
Much of what the book is about remains a mystery at this time.
However, one chapter is of note.
Gerhard von Juntz in Arkham
The chapter relates the story that Johann von Juntz's grandfather, Gerhard, told him. When he was a young man, Gerhard von Juntz had served as a Hessian soldier (German mercenaries who fought for the British) during the American Revolution.
At one point, Gerhard von Juntz and some other Hessian soldiers briefly occupied a small New England town. Although Gerhard did not name the town in his account, the description he gave, seemed to indicate the the town in question was Arkham.
While in Arkham, Gerhard von Juntz began to hear strange stories about a mysterious group called the Inner Circle. Apparently, this group was sworn to stop 'enemies from outside', as the account put it. Before Gerhard could investigate further, he and his fellow Hessian soldiers were ordered elsewhere.
Thus, Gerhard von Juntz never had the chance to follow up on his investigation of the Inner Circle.
Revelation
Soon after, Rex told Randolph Carter about what he and Hannah Webster had uncovered by reading Unaussprechlichen Kulten. It was this event that led Randolph to reveal the existence of the Inner Circle to Rex and Hannah soon after.
References
Rex and Hannah Chronicles Story No. 38: Innsmouth Revisited